LJUBLJANA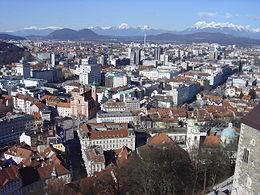 Ljubljana is the capital of Slovenia and its largest city. It is the centre of the City Municipality of Ljubljana. It is located in the centre of the country in the Ljubljana Basin, and is a mid-sized city of some 300,000 inhabitants. Throughout its history, it has been influenced by its geographic position at the crossroads of Germanic, Latin and Slavic cultures.
For centuries, Ljubljana was the capital of the historical region of Carniola, and in the 20th century it became the cultural, scientific, economic, political and administrative centre of Slovenia, independent since 1991. Its transport connections, concentration of industry, scientific and research institutions and cultural tradition are contributing factors to its leading position.
The most scientifically acceptable hypothesis is that the city was named after the river Ljubljanica that flows through it. The city's symbol is the Ljubljana Dragon. It symbolises power, courage and greatness. It is depicted on the top of the tower of the Ljubljana Castle in the Ljubljana coat-of-arms and on the Ljubljanica-crossing Dragon Bridge (Zmajski most), often regarded as the most beautiful bridge produced by the Vienna Secession.