LENDAVA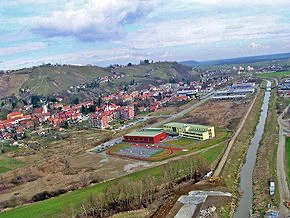 Lendava is a town and a municipality in Slovenia in the region of Prekmurje. The name of the settlement was changed from Dolnja Lendava to Lendava in 1955. It is close to the border crossing with Hungary at Dolga Vas-Rédics, and Hungarian is one of the official languages of the municipality, along with Slovene. Lendava was a district of Zala in the Kingdom of Hungary until 1918. It was part of Hungary again from 1941 to 1945.
The town is the centre of the Hungarian minority in Slovenia. It is also known for the monumental theater and Hungarian Community Centre designed by the architect Imre Makovecz. It has a football team, NK Nafta Lendava, which plays in the Slovenian PrvaLiga.
The parish church in the settlement is dedicated to Saint Catherine of Alexandria and belongs to the Roman Catholic Diocese of Murska Sobota. There is also an Lutheran church in the town. It was built in 1931. Lendava Castle is a castle on a hill above the town centre and contains a museum and a gallery.